Making Learning Interactive and Interesting!
eLearning Video Production Services
eLearning is no longer confined to the classroom. Today, people need the freedom and flexibility to learn anytime, anywhere, at their own pace. That's good news for organizations who stand to save lots of money and gain tons of efficiency from delivering their educational content virtually via eLearning video courses. If you're looking to take eLearning to a new level through videos, take our eLearning video production services.
Brands We've Worked With!
We are an Ahmedabad-based video production house that employs the best video-creation experts in the Health Care, Professional Services, Education, Finance, Government, Human Resources, Manufacturing, Marketing and Media, Non Profit Products and Retail industry!
Benefits of having an eLearning Video?
There are several benefits of eLearning videos. Here are a few!
Facilitate thinking and problem-solving

Using videos to communicate ideas and concepts makes learning insightful and engaging. A typical video consists of moving images, sound, and text. When a learner is watching an interactive video, he is engaging in multi-sensory learning, which literally means learning through two or more senses.

Ideal for visual learners

Everybody has a different learning style. There are auditory learners who learn better through listening; Kinesthetic learners who prefer doing an activity in order to learn; and visual learners who understand and retain information better when ideas, words, and concepts are associated with images and videos.

Accessible on multiple devices

Videos could be made accessible on all devices with varying internet speeds if they are kept short and light. Multi-device delivery of videos enables learners to access the videos on a desktop or a laptop, at home or at the office, and through smartphones and other handhelds when they're traveling.

Animations to communicate abstract concepts

Videos need not be composed of real images. You can use animations, such as white-board drawings, animated avatars, animated explainer videos – which are very modern and visually engaging for online learners – to make it work. Having animated videos of any kind can add style and beauty to your e-learning courses.

Reduce training cost and time

Today, you can have an interactive video-based learning course up and running in no time, without burning a hole in your pocket. I don't mean recording a live presentation and posting the fuzzy tape online for others to view. No. You can employ videos with engaging content created by industry professionals, according to your own business objectives.

Demonstrate how-to and how-not-to effectively

Another small, yet significant, benefit of using videos is that they can be employed to illustrate how not to do something and then getting the learners to spot the mistakes. If time allows for it, you can follow up by showing them the correct way of completing the task. This is extremely useful for salespeople when it comes to teaching them how to handle customer objections.
Types of eLearning Video
Microvideos
Microvideos are short instructional videos that focus on teaching a single, narrow topic. They're usually less than a minute long and appeal to today's media consumers, who have notoriously short attention spans. You might make a one-off microvideo that teaches a new software feature or for more complex concepts, create a series of microvideos that splits a topic into logical chunks, with a microvideo for each. This strategy also allows for more control over the pace of learning and makes the learning content easier to consume.
Training Videos
Training videos are designed to improve employees' workplace skills. They commonly cover interpersonal topics, such as compliance and harassment training, or job-related topics, such as hardware and software training. Similar to tutorials, training videos leverage multiple instructional techniques, such as direct instructions, follow-along type guidance, quizzing, and interactive elements. Training videos are often used in situations that lend themselves to live video, where the interpersonal connection will improve the content retention.
Presentation and Lecture Capture Videos
This kind of video is a recording of a lecture or presentation to make it available for an audience to consume or review after the fact. This might be as simple as recording just the audio for a presentation, or as advanced as recording PowerPoint point slides, a webcam and a separate microphone all at once. Lecture and presentation capture tend to be longer than a tutorial video and span the length of the class or presentation. These videos are great for when you want to make a presentation or lesson available for later review or to make it available to an audience who couldn't attend the live event.
Tutorial Videos
A tutorial video is the go-to instructional method for teaching a process or walking through the steps needed to complete a task. Usually between 2-10 minutes long, these videos leverage multiple instructional methods, such as direct instruction, follow-along type guidance and even quizzing and interactive elements. Tutorials videos can teach just about anything. No hard-and-fast rules exist for deciding when to use them.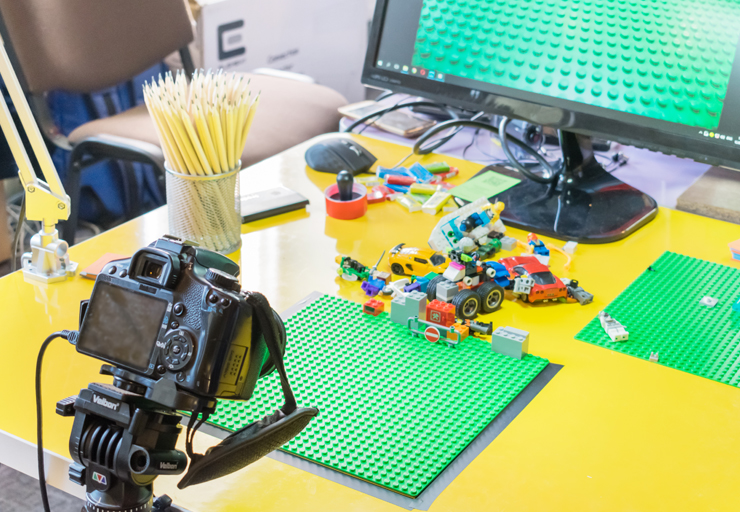 Screencast Videos
Screencast videos are composed primarily of screen recordings designed to teach someone to perform a task or share knowledge. Screencasts tend to be quick, informal, and are usually intended for a smaller audience than tutorial videos. This format lends itself to just-in-time teaching, where an instructor can quickly create a screencast to answer a question or clear up a problematic concept. Screencasts are great for quick, informal instruction. When the audience is small and the stakes are low, a quick screencast is a great way to visually communicate an idea or solve a question/problem.
Lecturette Videos
Lecturette videos are condensed versions of in-class lectures, or "mini" lectures. They can consist of any of the following elements: short video clips, screen captures, images, slides and voice recordings. This type of instructional video can be utilized to implement the flipped classroom model, where learners are taught at home via lecturettes, followed by content-based exercises in the classroom.
What Our Clients Say!
Our work reflects in what our clients have to say about us!
Thanks to KrishaStudio we were able to get eye-catching video content to promote our establishment and secure the best possible media coverage. We thank you for your support that helped us to raise the profile of our business. We are extremely thankful that you saved our day by creating the video within the given timeframe.
We worked with the KrishaStudio team recently and we have had only good experiences all through the video creation process. The animation film you created was highly engaging and presented our methodologically to measure and develop staff behavior effectively. It opened new avenues to do business for us. All thanks to your amazingly professional and creative team.
I want to thank the makers for producing this amazing animation. You people were extremely patient throughout waiting for the feedback and quick in taking it on-board, turning it around. The video you made was of the highest quality with fantastic stills and incredible colors. Thanks so much for the hard work.